Garden & Urban Spaces
A sense of place whether in a private garden or more public space each piece of work shown below has been designed and created to identify with and an expression of our relationship with our environment. These markers acting as focal points for contemplation and through which to draw inspiration.
-Joshuas Tree-
Commissioned to be placed in the garden beneath a newly planted Cherry Tree.
Material: Kilkenny Limestone.
-Samadhi-
Letter forms creating a vertical rhythmic pattern, a meditative focal point for contemplation and stillness within the garden or landscape.
Material: Sandstone

-Peace Bell-
Bell restored, remounted and housed within a stone structure emphasizing a new role within the surroundings of a modern hospital.
Material: Hornton Limestone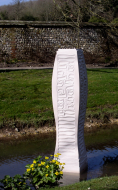 -Change-
Inspired by a quote from the Dali Lama,'The only constant in the whole universe is change', and Constantine Brancusi's Endless Column.
The words:-
'TABDIL' an Urdu word meaning 'Change' with its origins in Arabic.
'RIGPA' a Tibetan Buddhist word meaning 'The innermost nature of the mind'.