Heraldic Carving
The designs of Armorial Bearings are produced following strict formal guidelines. Identifying each element and its significance within the overall layout of the coat of arms. When approached to produce a piece of work of this nature an image and written description is requested. This can then be checked with the College of Arms.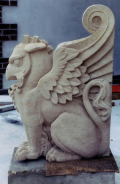 -Griffin (Gryphon)-
Heraldic beast, legendary creature, a symbol of divine power and guardian of the divine.
Material: Westwood Ground Limestone.