Public Art
Throughout history the medium of stone has been placed within the public arena as the conveyer of our hopes, ideas and experience, and chosen as the material through which to acknowledge and express celebration.
Featured Work
Category: garden & urban spaces (more »)

-Peace Bell-
Category: heraldic carving (more »)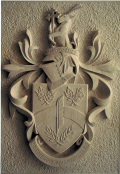 Heraldic Carving
Material & Design
With the possibilities wide ranging and the diversity of each situation enormous, the natural qualities of the material plays an integral part in the design considerations for each piece of work. Its ancientness and symbolism unequalled in its ability to enhance the environment and express our connection to place. Whether the work takes the form of a traditional carving or is designed with a more contemporary feel.