Plaques
With an inscriptions primary function being to impart necessary information my approach in producing work of this nature focuses on the design factors of each piece being seen and read as texture.
Featured Work
Category: Inscriptions (more »)

-Youthful Endeavour (detail)-
Category: Inscriptions (more »)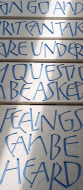 -Word Wall (detail)-
Letters & Texture
In each situation with emphasis on maintaining its legibility and complimenting this with the beauty of the material, letter forms and the overall textural quality of the layout. Concentrating on the enhancement of these aspects with the intention of encouraging the viewer to experience and respond to the piece as a whole before reading.