Lettering
Having an absorbing interest in lettering I design my own letter forms for each situation. The letters are firstly designed and drawn out on paper, once at a satisfactory stage of refinement and scale they are then transfered to the stone where they are effectively drawn again with the chisel. Throughout this process concentrating on the vital principles of spacing, rhythm, form, and the textural qualities they create along with the sense of life there whole feel gives.
Featured Work
Category: poem phrase letter (more »)

-Earth Walker-
Category: letters & symbols (more »)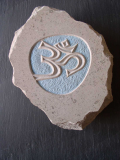 -OM Symbol-
Forms & Shapes
The processes of drawing and more so that of carving letters helps move them from their familiar descriptive use and into another expressive realm, creating the quality of 3 dimensions and introducing the play of light across their surface, opening a further layer of meaning and inviting a fresh appreciation. Often in these situations I'm not so concerned with the legibility of a piece but I allow the letters themselves maintain there ability to communicate, often retaining the aspects of thicks and thins along with weight, but focusing on exploring the nature of letter forms as being abstract shapes and there origins as representative symbols of sounds.