Malcolm Sier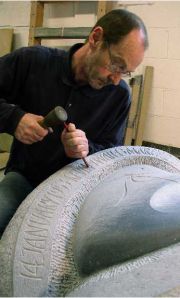 In retrospect I have followed a seemingly traditional but unexpected route in my career as a Sculptor and Letter carver.
I initially studied Fine Art at Stourbridge College in the West Midlands. This time provided the opportunity to explore ideas and produce work via a wide variety of media and disciplines from drawing, painting and print making through to the 3D areas of modeling, casting and construction, with sculpture always being my fundamental interest.
On completion and during a period of reflection I attended an evening class which was to be my introduction to stone carving and instantly fell in love with both the material and the carving process. This became the inspiration to expand my knowledge further by moving to Dorset and embarking on the Architectural Stone Carving/Masonry and Letter cutting course at Weymouth College where I received an excellent and thorough training in stone as a natural material, from the quarry to the skills and techniques to produce a finished piece of work. During this time my interest in carved lettering developed, so from here I went on to work as assistant to Tom Perkins on numerous occasions which complimented my own personal study of letter form and layout design. This experience led to me being able to set up a workshop and take on my own commissions which have proved challenging and varied.
My Work
Much of my work often involves working closely with clients an aspect which I feel to be most important and has proved particularly relevant in my activity as a memorial artist. As with any commission clients are always welcome to visit the workshop and see work in progress providing the opportunity for the client to develop a relationship with the work and gain a fuller understanding of the creative processes involved. Personal involvement being part of the satisfaction that the whole process can bring, an experience that many find rewarding and worthwhile especially as it may be the first time a client has commissioned a piece of work.
The processes involved are about refining and conveying feelings, from the design drawing to finished piece. I enjoy the carving process and through working directly with the material conveys a spirit, working in any other way would only give the whole thing the wrong spirit.